Dear readers, meet my BLUNTmom friend Brooke of Missteenussr. She usually writes about parenting in a funny but extremely beautifully written way. She is a real word wizard (you really have to read "Ladies Who Lunge" to know what I mean). She recently allowed me to guest post on her blog- check me out on missteenussr!
I have this theory that interest in language and writing skills go hand in hand. Brooke decided to send her daughter to French immersion school and gives her reasons for doing so. Of course, as someone who chose an international school for our kids and a mother raising multilingual kids, I can only applaud her decision. Take it away, Brooke!
Even though it feels like just yesterday that my daughter was forcibly removed from between my legs and plopped onto my sweaty chest, somehow, some way, in just a few months' time she will be crossing the threshold of elementary school. Oh, my chest. It hurts, just a little.
But where there lurks a tiny dollop of trepidation and sadness, there is also a seed of excitement that is starting to sprout because we enrolled her in a French Immersion program.
Have we ever uttered a word of French in our home? Non.
Am I worried? Not at all.
After a lot of research, hand wringing, and long detailed conversations with the parents of some French Immersion children, here's why we chose to plop her into a French Immersion program.
Her Brain
You know what my deep-down dream for my daughter is? Aside from ever-replenishing self-esteem, clear pores and a kind heart, I want her to be smarter than I am. I want her to hop in the car every afternoon and tell me something I don't know. I want everything I've taught her (which is a paltry pile of half-remembered songs and Buzzfeed pop culture quizzes) to be supplemented with juicy facts she savours then spits out to impress me. I want her spongy brain to sop up all the learning gravy she can handle. Learning new lessons in a new language is going to blaze a new highway of shiny neurons in her brain.
Her Boredom
Half of her genetics are provided by my husband who was so bright and so unchallenged and so bored in school that trouble became his #1 priority. I would love to not get a call about a band teacher's keys being flushed down the toilet. I don't want school to become a slog day in and day out. I definitely don't want the lessons to be so inane that she decides to explore graffiti, boy's mouths or nicotine.
Her Future
Exploring new worlds in the classroom = exploring new worlds outside that classroom's doors. After she dunks in French's cool waters, I want her to develop itchy feet, wanderlust, and frantic desires to soak up even more new cultures. I'll even accept the dreadlocks she may come home with. I know from experience that the second you travel this world and sink your feet into new earth, you are forever changed. Punching down roots into the soil of where you were born is fine; I just want her to smell the other side of the world before she settles on one spot.
Her Posse
We live in a family-friendly apartment building, but due to my work schedule, unfortunately we haven't made friends with anyone down the hall. As she is an only child, I feel the key part of her childhood missing is a peer posse. Being in a program with the same children advancing year to year together will keep her surrounded by the same faces, which will ideally lead to deep-rooted and long-lasting friendships. Sure, not every kid will be a winner. I know for a fact I will have to lie to beg off certain play dates or birthday parties that would make me grind my teeth to the bone. But I feel certain she will find sweet buddies that can help her tackle each year with a calming familiarity, taking the sting out of a cool September morning after a summer away.
We are aware that French Immersion might not be her jam. If she struggles, we will be mindful and helpful and if it's not a good fit at all, out she'll come into a regular Kindergarten class.
Parenting and childhood are both jam-packed with new challenges and discoveries. We'll tackle this new stage, new start and new steps together, hand in hand, with careful bravado and bright curiosity.
Sure, my chest will be a little tender, but I know she can do this.
We can do this.
Oui?
Oui.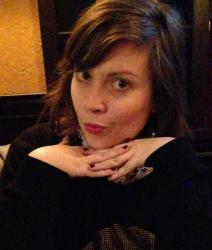 Brooke Takhar is a Vancouver-based mama to one goon and busy body to all. She loves the Internet, glittery nail polish, over-sharing and teaching her kid outdated dance moves. If you really love her, you'll fight in public. Please check out Brooke's blog missteenussr and follow her on Facebook and Twitter.